Case Study: SME Engagement Day with NMIS
Background
The National Manufacturing Institute Scotland (NMIS) is a group of industry-led manufacturing research and development facilities with a network of partners across Scotland brought together to boost the manufacturing community.
They are focused on revolutionising skills, productivity, and innovation to help attract investment and make Scotland and the wider UK a global leader in advanced manufacturing.
NMIS's Advanced Forming Research Centre
Challenge
As part of their aim to encourage innovative approaches to manufacturing challenges, NMIS ran an SME engagement day to demonstrate the state of the art solutions in machining to Scottish SMEs at their Advanced Forming Research Centre facility.
A number of technology partners were invited to collaborate with NMIS in creating technical demonstrations.
Productive Machines demonstrated our capabilities in process optimisation on a case study.
Solution
Productive machines worked with an already advanced tool path that had been highly optimised.
We demonstrated two of our capabilities to maximise productivity and quality.
Feed-rate optimisation to eliminate the sudden loading,i.e. spikes of cutting forces
Spindle speed optimisation using Stability map to mitigate chatter vibrations
Results
By deploying these solutions, Productive Machines were able to achieve the following
7% reduction in cycle time on an advanced tool path which was regarded as the state of the art in the industry using feed rate scheduling
Optimum spindle speed of 10,600 rpm was used to mitigate chatter vibrations in the process without a trial and error method on the machine tool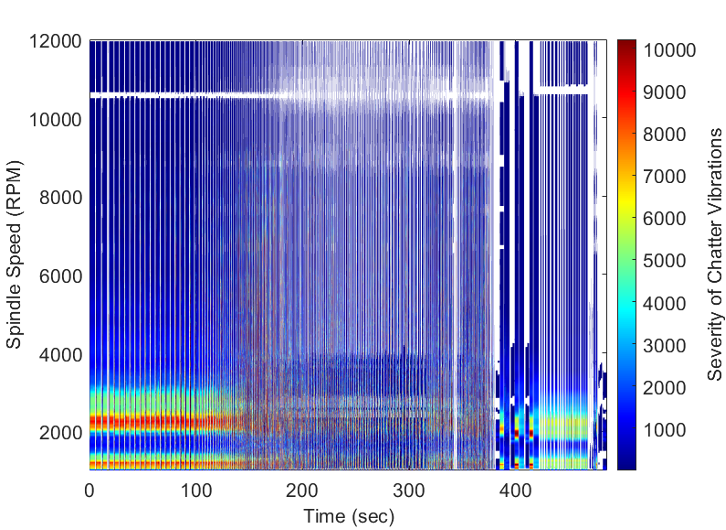 Stability map showing a stable region at around 10,600rpm
The results of the trial day were documented by MTDCNC in a video. You can follow the link to our YouTube channel and hear Conor McFadden from NMIS talk about the benefits of Productive Machines technology: Click Here
There is also a YouTube video of our stability map in action: Click Here
Also, who says machining can't be fun? Have you ever heard a machine tool play 'Smoke On The Water?' Click Here